BEMO-COFRA demonstration at Hannover Messe, April 2013
Posted by on 06. May 2013
---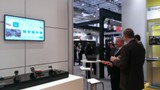 At HANNOVER MESSE, April 8 – 12, 2013, Fraunhofer FIT demonstrated the monitoring system, using a production line in the automobile industry as an example. The focus point of the FIT stand was to demonstrate the process oriented energy control and optimization that is being developed in the BEMO-COFRA project.

HANNOVER MESSE is valued by companies and organizations around the globe as the world's premier industrial technology showcase with its clear focus on core technologies and services that enable industrial production, innovation and efficiency.

---
Extended News
---
Process oriented energy control and optimization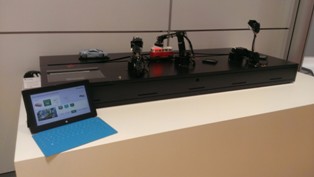 Energy efficiency is a key driver for increasing manufacturer's competitiveness. Optimizing energy consumption depends on detailed data such as the consumption of individual machines in each manufacturing process step. Fraunhofer FIT developed such a system based on a service-oriented architecture based middleware.The middleware allows easy and rapid integration of heterogeneous sensors and legacy systems in existing production facilities. The system will be demonstrated using an example production line in the automotive industry.

The press release from FIT regarding the demonstration at Hannover Messe 2013 can be viewed here.